Main content starts here, tab to start navigating
THE ART PROGRAM
SONA announces its latest art partnership with the blue-chip art company DAG (formerly Delhi Art Gallery) for an exclusive showcase of a carefully curated selection of works of twentieth century Indian art, entirely from the gallery collection, throughout the restaurant. Marking the debut, the collaboration highlights works of fine art from some of India's most prolific artists and celebrates the diverse characters and cultures of the subcontinent; allowing new generations of art enthusiasts and collectors a fresh point of view on India's rich art history.
Carefully amassing works by underrepresented influential artists, collecting important works from the 19th and 20th centuries, it places them at the forefront of the modern art conversation alongside familiar names such as Picasso, Matisse, and the German expressionists. Handpicked by DAG in association with SONA, the special collection includes vibrant pieces from some of India's most celebrated artists including Himmat Shah, Ambadas, Sohan Qadri, Avinash Chandra, G R Santosh, Dharamanarayan Dasgupta, and P Kemraj. Spanning the 1960s through the early 2000s, the current collection is a harmonious blend of expressionism, modernism, and surrealism.
In forging this partnership, our hope is to utilize SONA as a powerful platform; a platform to start new conversations around India's rich cultural heritage, bringing the characters and flavors that make the country the wonderfully rich and inspiring place it is.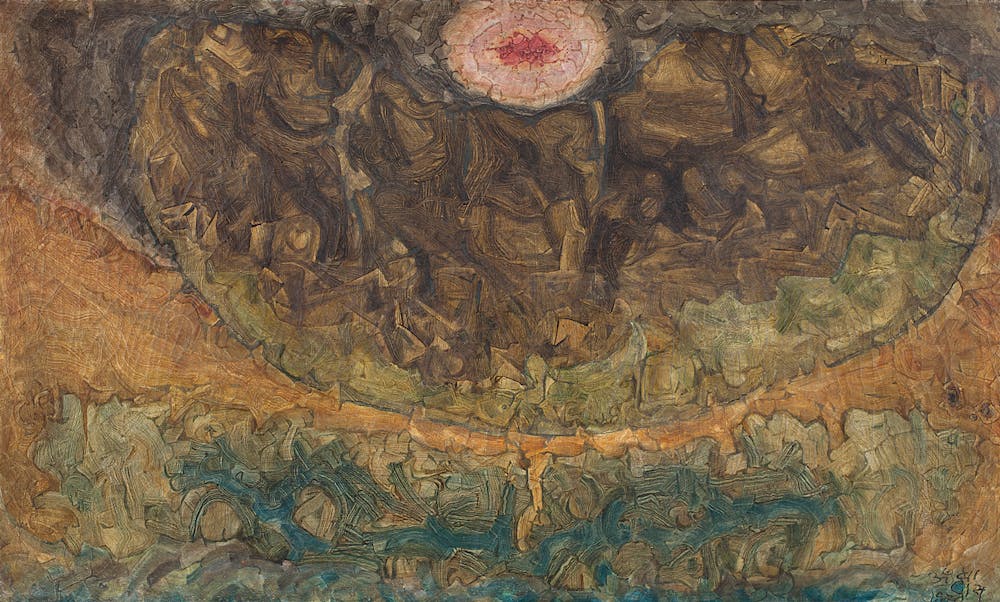 'Untitled,' 1970, Oil on canvas, 36 x 60 in.
AMBADAS
1922 - 2012
An alumnus of Sir J. J. School of Art, Bombay, Ambadas chose abstraction over every other genre, evolving an individuated language typified by vigorous, flat brush strokes, as in this Untitled oil. A distinctive quality of his color application was the discernible movement of the brush on the canvas, with paint leaving a trail of immiscible oil between the outer edges of each stroke. These squiggles of paint would take a variety of forms in his works, evoking abstract landscapes of western India where he grew up and lived before shifting to Norway in 1972. The color palette here is also distinctively deciduous, as opposed to the softer temperate hues he would experiment with later.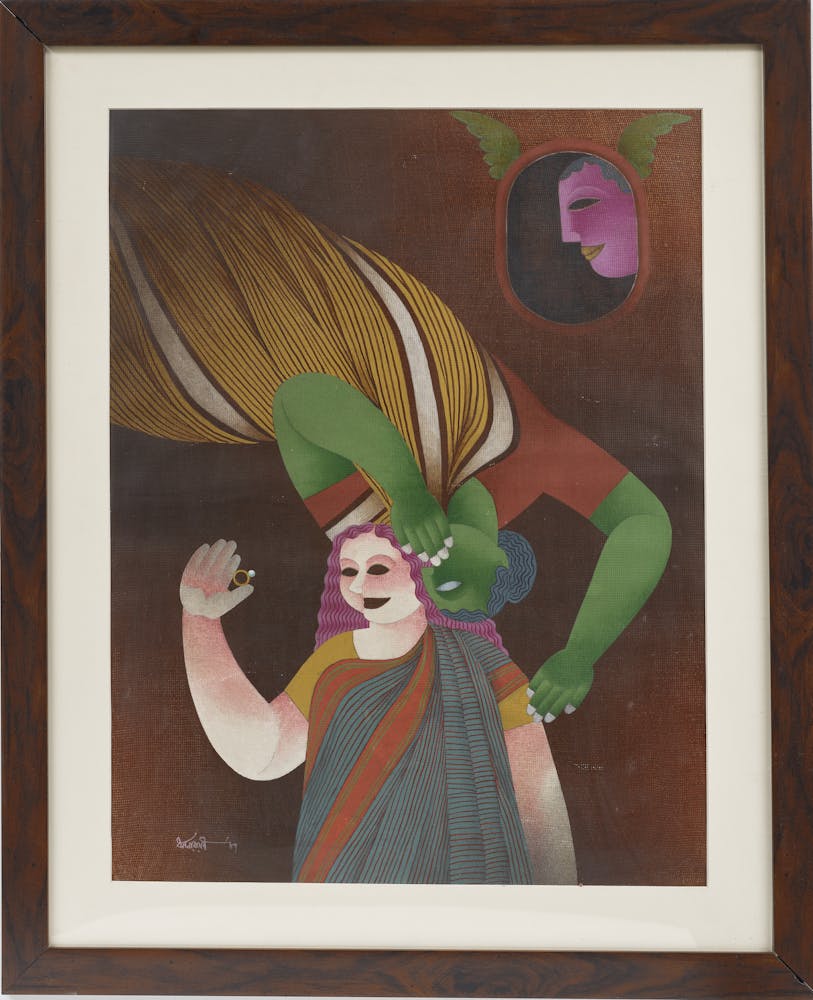 'Untitled,' 1987, Acrylic on cloth, 28.5 x 21.7 in.
DHARAMANARAYAN
DASGUPTA
1939 - 1997
Using parody to critique quirks of contemporary society, Dharmanarayan Dasgupta created a unique visual language that is easily identifiable with his signature, featuring sari-clad voluptuous and gratified women and dhoti-clad men. His style was an aesthetic yet skittish union of traditional Indian elements with those of the western art. In this Untitled work for instance, two women gossip about a probable beloved—as denoted by a ring in the hands of one of them—while a hopeful suitor eavesdrops from a window. The smirk on the face of the first woman, the green body of the other, the pink face of the man—all add an element of mirth to the narrative.

'Untitled,' 2003, Ink & dye on paper, 42 x 15.5 in.
SOHAN QADRI
1932 - 2011
Sohan Qadri's color-saturated visual fields were exercises in meditation for him while creating these paintings, and they were a meditative experience for the viewer of the painting as well. First a yogi and then an artist, he was unabashed about his colors, mostly choosing bright shades to convey a heightened sense of existence. It was his ability to speak a universal spiritual language that endeared his art to connoisseurs globally. In this large work, Qadri—who hailed from the Punjab and traversed the world before settling in Copenhagen—celebrates life through a DNA-strand like chain of interlinked units, coursing through a sea of red, the color of life and fertility.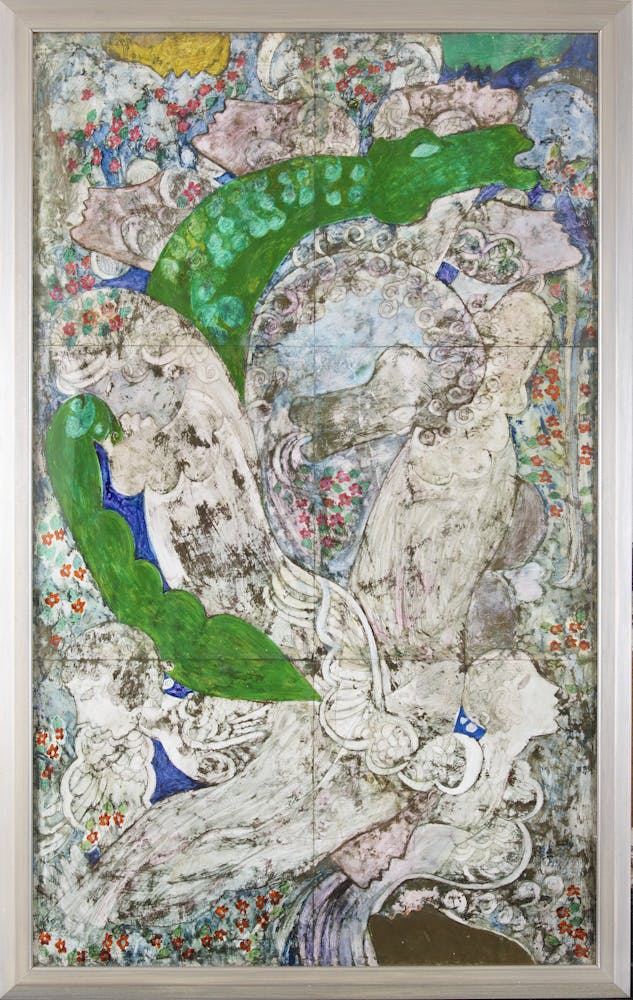 'Prithvi (Earth) & Asha Hans (Birds of Hope),' 1993, Acrylic & gold pigment on ivory board, 72 x 43.7 in.
P KHEMRAJ
1934 - 2000
Fluidity of lines was a hallmark of P. Khemraj's art right from his early years, when he was still a student at Sir J. J. School of Art, Bombay. Though this trait stayed with him right through all his experimentations, the 1990s saw a seminal shift in his art as he started working predominantly in the mosaic-mural format. This large work is a fine example of Khemraj's art from this period, when he also started giving a marble texture to his works, populated by a mosaic of figures floating among moving clouds, swaying to a cosmic rhythm, and allowing the viewer multiple points of entry into the work.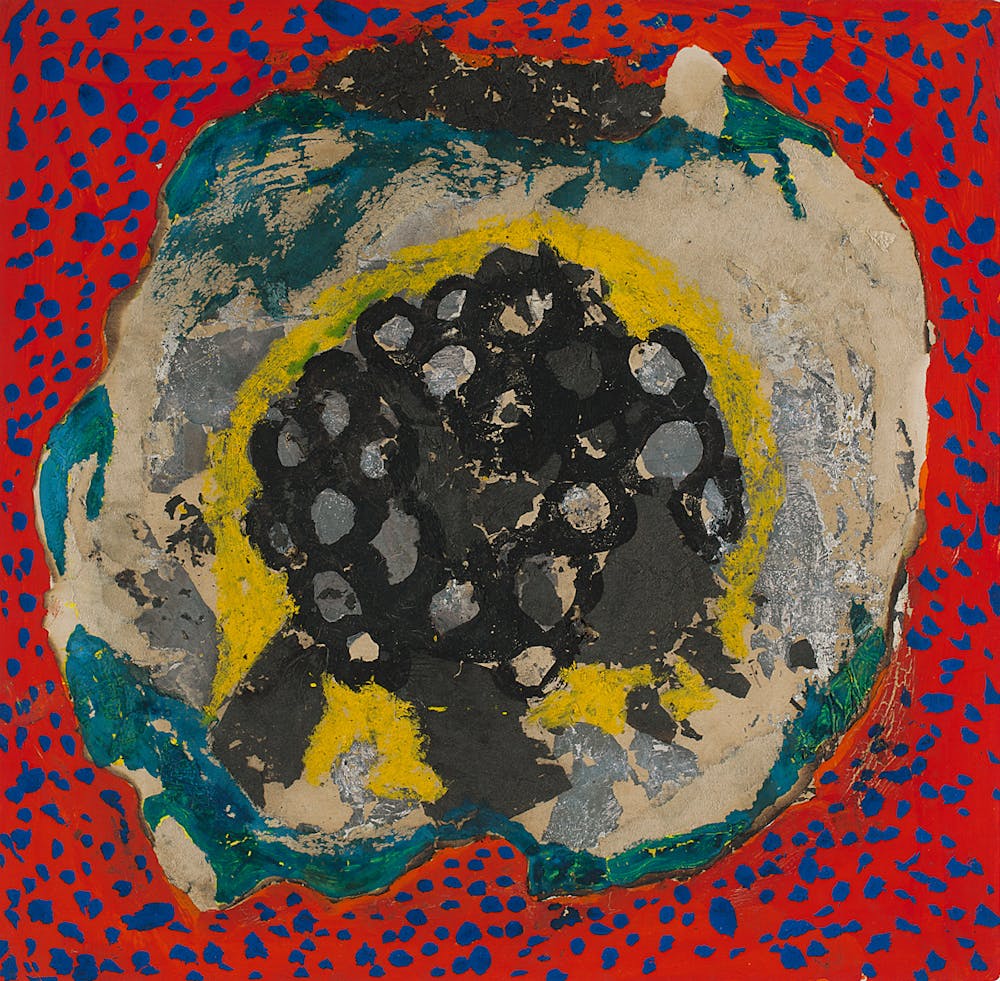 'Untitled,' 1962, Silver, tempera & burn marks on paper / pasted on paper, 8 x 8 in.
HIMMAT SHAH
b. 1933
One of India's most important modernist sculptors, Jaipur-based Himmat Shah also boasts of an impressive repertoire of experimental two-dimensional works that traverse the same modernist vocabulary as his sculptures. A key characteristic of Shah's career has been his ceaseless experimentation, resulting in works with unusual combinations of mediums. This abstract work, featuring a throbbing core in a sea of red, evokes the most seminal of natural processes that has fascinated artists over centuries—the process of germination or birth that lies at the root of all life, and keeps its cycle on earth running eons after eons.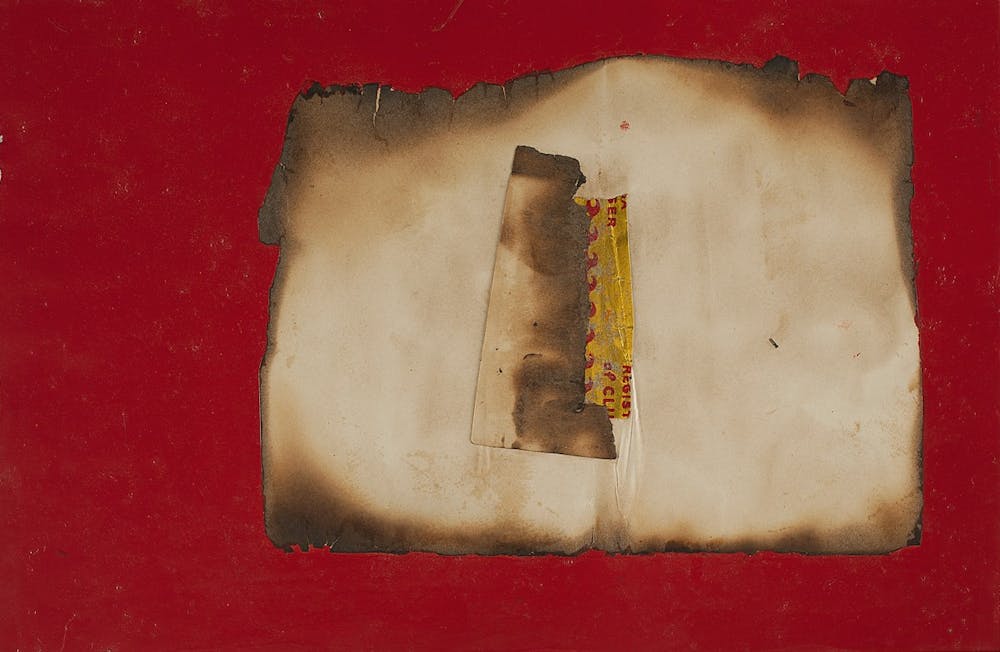 'Untitled,' 1962, Enamel on burnt paper collage on paper/ pasted on paper, 7 x 10.5 in.
HIMMAT SHAH
b. 1933
Himmat Shah, now 89, went to Paris on a French government scholarship in 1967 and had his first taste of European modernism that would reflect in his terracotta and bronze sculptures thereafter. But his modernist vocabulary was set much earlier, as is evident in this paper collage work—it was done in the year he received his second national award from the Lalit Kala Akademi. Shah has remained an inveterate experimenter throughout his career, working across forms and mediums, through self-designed tools and techniques, of which this Untitled work offers a glimpse, where he seamlessly brings together diverse media in a harmonious construction of a visual imagery.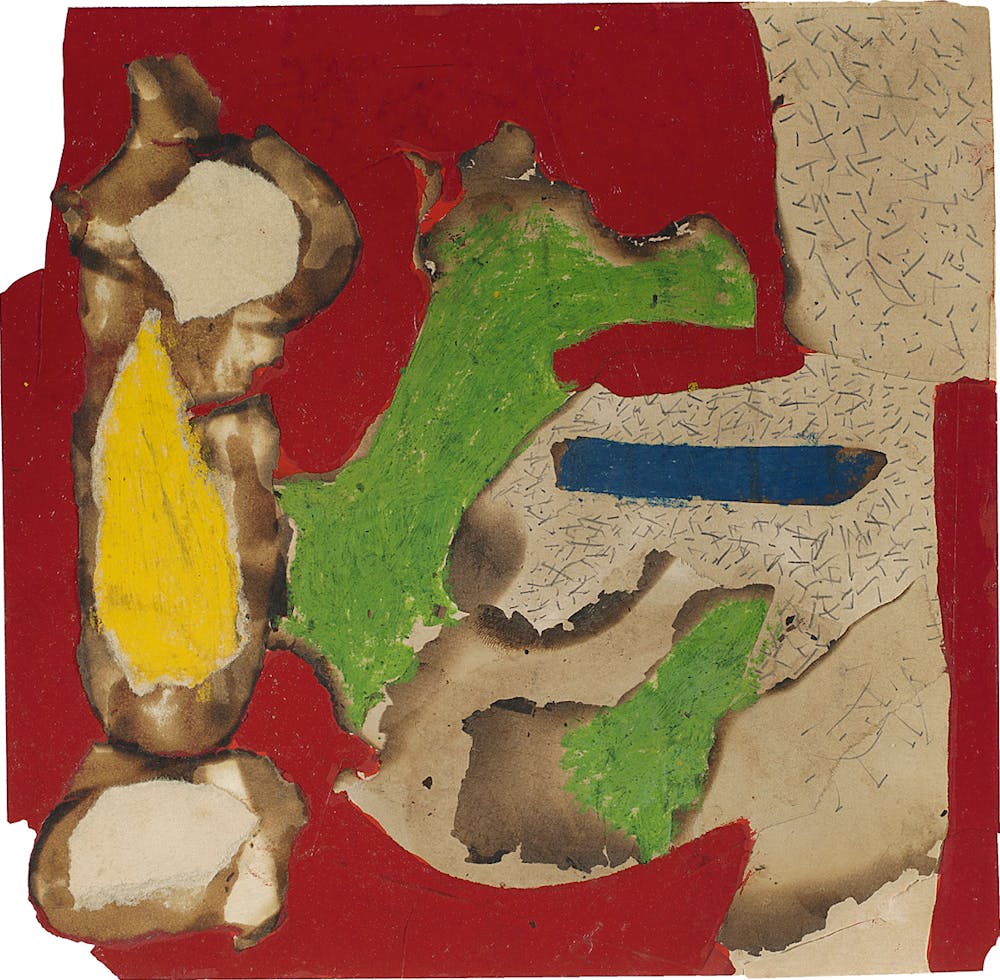 'Untitled,' 1962, Graphite, pastel, enamel & burn marks on paper / pasted on paper, 8 x 8 in.
HIMMAT SHAH
b. 1933
Burnt paper appeared in several of Himmat Shah's works when an accidental experiment led him to observe the effect of fire on paper. The impact of fire on mediums of art was studied to great effect by one of his contemporaries and co-founder of the Group 1890, Jeram Patel, as well. In this work, Shah also references the archaeological scale of his birthplace, Lothal in Gujarat, which is one of the most important sites of the Harappan or Indus Valley civilization, and the only one with a dockyard. This abstract construction almost offers a bird's-eye view of a site under excavation with different colors denoting different layers of historical timelines.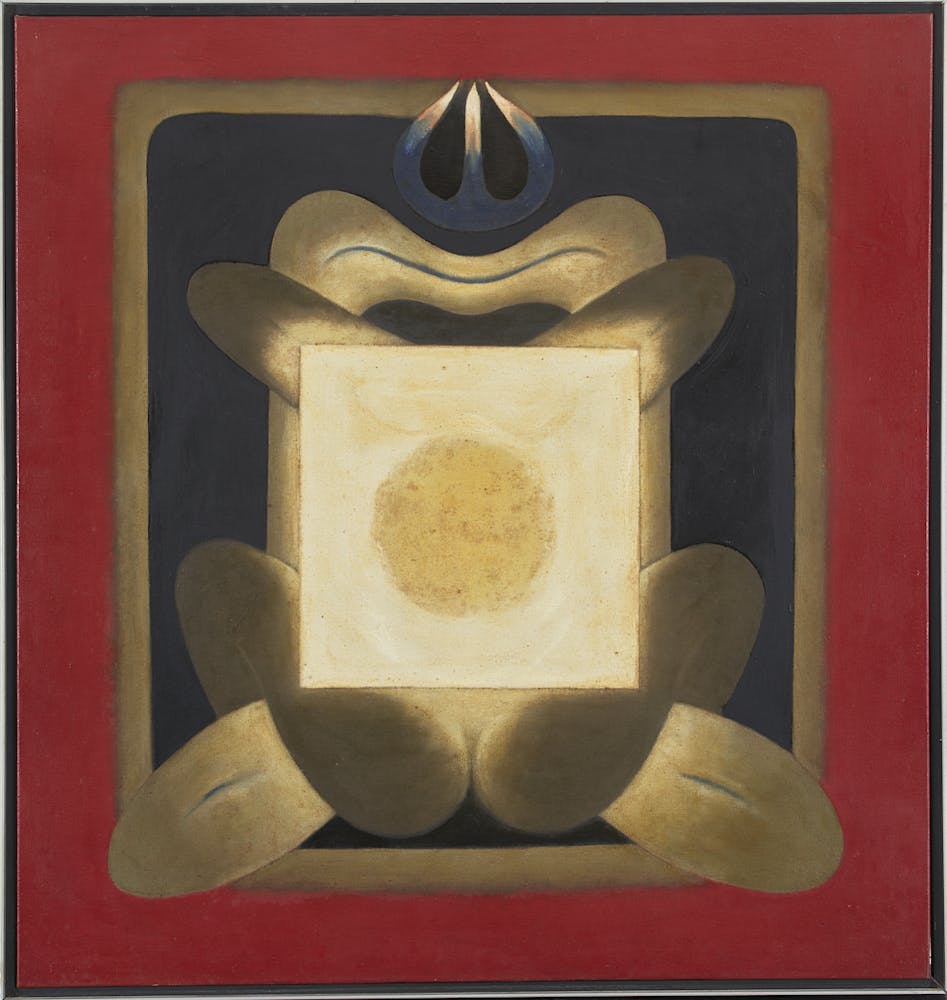 'Untitled,' Oil on canvas, 38.7 x 36.5 in.
G.R. Santosh
The name of G. R. Santosh is synonymous with the neo-Tantra art movement, which he spearheaded after an epiphany at the shrine of Shiva in the Amarnath cave in his native Kashmir in 1964. Santosh's philosophical explorations gave birth to an artistic vocabulary that is well delineated in this Untitled work. At the center is a square, denoting the universe that contains a large dot, symbolizing procreation, or the beginning of life. It is also the dot to which all life returns in the end, through the union of the individual with the universal soul. In the background is the signature Santosh expression of the male and female principles, denoted by the limbs of two individuals in union. Shiva's trident at the top completes the tantra cosmology.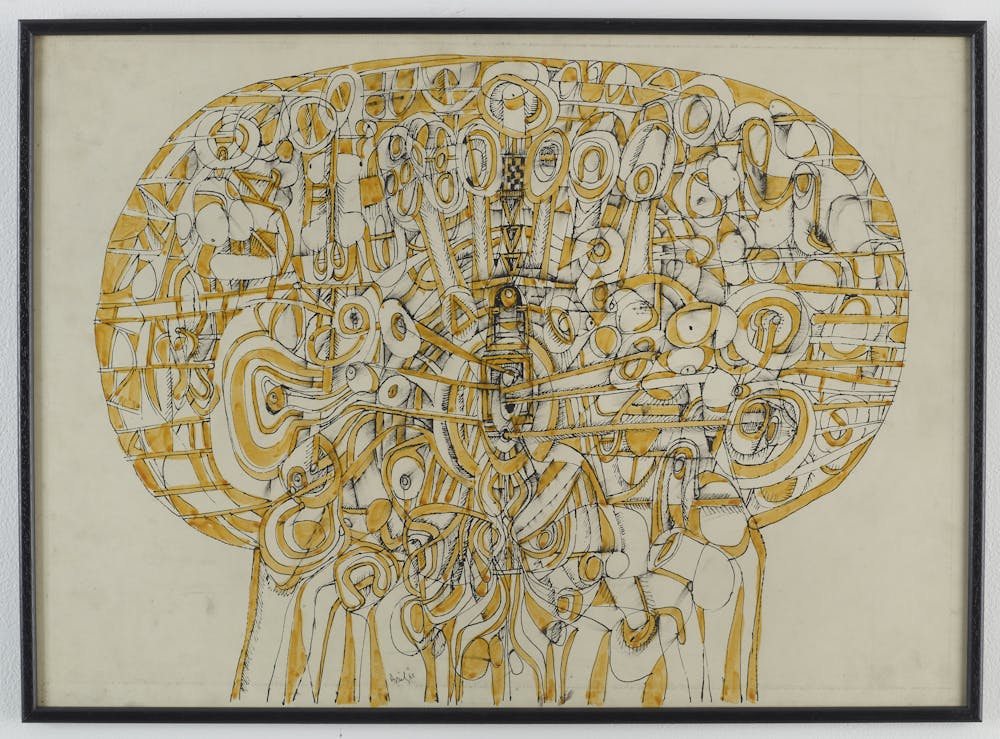 'Untitled (A Moon Shot)', 1965, Ink & waterproof ink on paper, 21.5 x 29.5 in.
AVINASH CHANDRA
1931 - 1991
By the time Simla-born and London-based Avinash Chandra came to make this work, he had begun to enjoy the apogee of his career. He had been hailed by The Guardian as a 'new painter of great ability', and in the year this work was made, had been awarded the John D. Rockefeller III grant and a show at Tate Britain, a first for an Indian. The reasons were not far to seek. His quest for an individual idiom upon arriving in London in 1956 had flowered into unique abstract landscapes that were predominated by symbolic sexual references. In these works, he would make skillful use of elegant line drawings to create freely suspended erotic forms that would evolve into more explicit anatomical forms in his later works.
For more information on any of the artworks, please visit www.dagworld.com
or email Josheen Oberoi at newyork@dagworld.com
DAG New York
The Fuller Building
41 East 57 Street, Suite 708,
New York, NY 10022
Telephone: +1 212 457 9037